So, you're taking the big leap by deciding to open a restaurant in Australia. That's a remarkable endeavour, so kudos to you! There are a lot of things to consider, especially after the arrival of COVID-19, so it's important to do your research and know the facts before taking the leap of faith and kickstarting your food business. To help you get the ball rolling, we've created this step-by-step guide about how to open a restaurant in Australia and what you need to know to get organised.
Have a detailed plan
Secure business funding
Incorporate your food business
Pick your location
Hire the right staff
Prepare to open for business
Market your business
#1 Have a detailed plan
Before you begin doing anything, the first thing you need to have is a clear plan for all of your F&B business essentials. The industry is extremely competitive and undergoes constant changes, so take plenty of time to complete this step as it will serve as your blueprint for your restaurant. Your plan should include the most important elements, including:
Budgets
Business operations
Financial projections
Branding and positioning
Offline and online marketing strategy
Suppliers
Staff and hiring policies
Service standards
All of these elements are interdependent and quickly create a domino effect should one part fail, so be sure to give this step plenty of attention.
#2 Secure business funding
Let's be real: as is true with all business ventures, no restaurant can function without money. You're not going to get very far without having adequate financing in place.
Here are some financial considerations to keep in mind when opening a food business in Australia:
The cost of opening a restaurant
A complete breakdown of what the cost includes—from staff, rent, equipment, etc
Your methods for raising the necessary capital—self-funding, loan, investors, etc.
The amount of money you need depends greatly on the type of restaurant you want to run. For example, in Australia, the startup cost for CloudKitchens® through Chef Collective is AU$23,000, while a traditional restaurant costs upwards of AU$1 million.
#3 Incorporate your food business
Incorporating a business in Australia is a complex process that requires many considerations. Here is a summary that includes an overview of the essential steps you need to take when registering your business:
Determine the type of company you're incorporating—a proprietary (private) that's limited or unlimited, or public.
Choose a business name that meets all necessary requirements (checking for trademarks, including the legal status, etc) and register it with the Australian Securities and Investments Commission (ASIC).
Decide how your company will operate. It can be governed by replaceable rules, its own constitution, or a combination of both.
Assign the company's officeholder, who must follow the requirements in the Corporations Act.
Get written consent from the people assigned to the roles of Director, Secretary, and Member (must have at least one member). At least one director and secretary must reside in Australia for a proprietary company.
Register your business online using the Australian Government's Business Registration Service (BRS) or register through a private service provider (PSP).
#4 Pick your location
Location is crucial for restaurants. Whether you're a delivery or dine-in establishment, you must consider these factors when deciding where you want to set up shop:
Which area meets the socioeconomic criteria your business needs?
Who is the target audience of your customer base?
What competitors are already doing business in the area?
If you open a CloudKitchen® business, providers like Chef Collective have done this research for you, so these are issues you don't have to tackle yourself. Their facilities are already prescreened to meet the necessary criteria in densely-populated areas where the business potential is greatest.
This is a huge area where business owners of CloudKitchens® save themselves time and risk, thus enabling their food business to get going almost immediately.
#5 Hire the right staff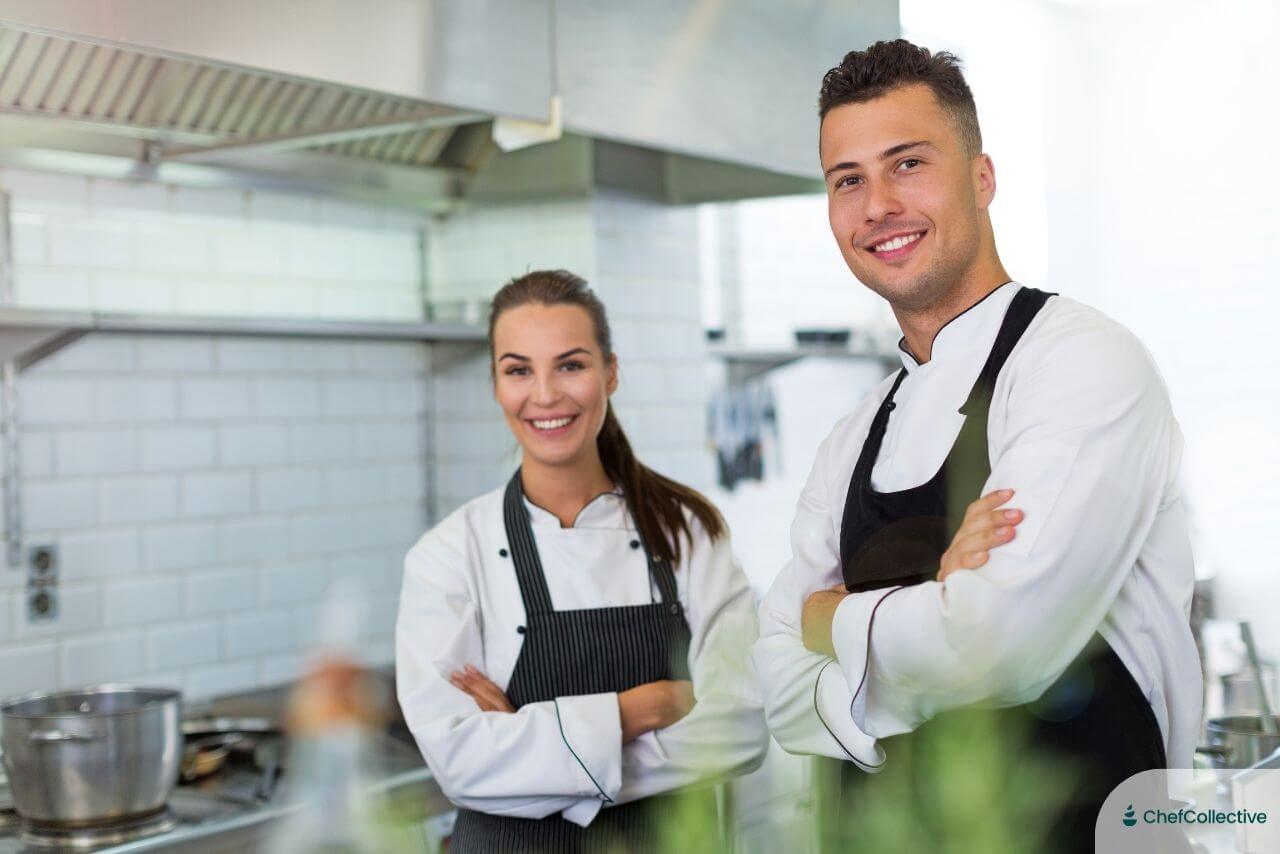 The staff you choose to bring onboard is a crucial component of long-term success. Service, efficiency and quality are some of the main things paying customers want from restaurants, and this can only be delivered by qualified staff that you trust to deliver on your expectations.
Here are some staffing considerations to think about when opening your own restaurant in Australia:
How many staff members do you need to run your restaurant efficiently?
What staff positions are the most important to your business' success?
What will be the training process?
Another advantage of CloudKitchens® is that they require a much smaller staff to run the restaurant. CloudKitchen® teams usually consist of 1 to 3 employees, while traditional restaurants in Australia require a team of at least 30. Having a smaller staff is a huge cost saver and also means less stress for the owner.
#6 Prepare to open for business
Finding the perfect location to open a restaurant in Australia is very exciting for any restaurateur. But there are still many hurdles to clear before their establishment is ready to open for business. Some of these logistical hurdles include:
Renovations – if you're a dine-in establishment, your interior must look top-notch and welcoming for customers. This usually means securing renovations and interior design that delivers on the customer experience you're promising to deliver.
Insurance – opening any business, particularly an F&B business, is unthinkable without securing the proper insurance. Should something go wrong, having public and product liability insurance will be your greatest lifesavers!
Equipment – this covers everything from the equipment you need to store your ingredients, prepare and cook the food on your menu, and get it safely to the customer. Obviously, this is critical.
Suppliers – as important as the equipment are your suppliers. It's impossible to cook up the menu items you're offering to customers if you don't have the right ingredients at your disposal. Quantities, timing and logistics need to be nailed down well in advance of opening your doors to the public.
Licenses – Restaurants in Australia need to secure several licenses that usually include:

Food business licence & adherence to food standards code – any business that wants to prepare and sell food must adhere to Australia's food standards code and have the right food business licence for the state in which the eatery is located. License holders are subject to food safety checks, so everything must be kept to the highest standards.
Outdoor dining approval – if you want to offer outdoor dining in a public space, you must first apply with your local council, which will check the suitability of the space and give you the regulations on how you're allowed to use this space.
Music license – for any type of music you want in your restaurant, whether live performances or background music, you must first apply for a music licence with the Australasian Performing Right Association/Australasian Mechanical Copyright Owners Society (APRA AMCOS).
Liquor license – you must secure the appropriate liquor licences if you plan on selling any type of alcohol in your food business.
Waste disposal – in Australia, you may need to get approval on how and when you're allowed to dispose of your restaurant's waste, depending on your council.
With many of the license requirements and regulations varying across the different states, this gruelling process is especially tedious and time-consuming. Find your local council here:
Again, these are all logistics that CloudKitchen® business owners don't need to worry about. Besides figuring out the equipment and ingredients they'll need for their restaurant type, the facility operators handle the rest. Not having to deal with these details frees up business owners to focus on their menus, getting customers, fulfilling orders and maximising profit.
#7 Market your business
Marketing is more important today than ever. With such fierce competition out there, almost all F&B businesses are doing their best to stand out via a stellar website, creative promotions, paid advertising and robust social media outreach. If your restaurant is to compete with other food businesses, you need to make sure that you're using the following techniques:
Online marketing – website, active social media accounts, mobile app, etc.
Offline marketing – flyers, menu pamphlets, advertising boards, etc.
Optimised website – make sure your site is visually appealing, easy to navigate and makes the menu prominent and easy to view.
Soft launch – use promotions to entice new users, along with special events, food samplings, etc.
All food businesses rely on marketing to be successful, even CloudKitchens®. The advantage is that expansion is much quicker and easier for brands that thrive in CloudKitchens® as compared to traditional, brick-and-mortar restaurants. This is because CloudKitchen® providers streamline processes and offer a great platform for businesses to thrive.
Get your restaurant going today
Now that you know exactly what you need to do to open an F&B business in Australia, your dream of owning and operating your own restaurant can come true—whether that's a traditional establishment or a CloudKitchen®. For more information about the latter, please fill in the form below to contact us!