Premier Commercial Kitchen Hire in Australia
Chef Collective's kitchen hires are fully-equipped commercial kitchens designed to allow you to operate your F&B business with maximum speed and efficiency. That way, you can dedicate yourself to what matters most— serving high-quality food to customers and growing your business!
Thanks for contacting us!
We'll reach out shortly so we can understand your business and needs better.
SCROLL
The advantages of kitchen hire with Chef Collective

Low risk, high return

Tap into new markets

Smaller and more productive teams

Multiple businesses in one kitchen

Easily expand your business

Collaborate with different delivery platforms
Customisable kitchen space for hire
Regardless of what kind of F&B business you are running and what specific needs you may have, Chef Collective has commercial kitchen hires available that will check all your boxes. Whether you are thinking of hiring a kitchen space in Melbourne or Brisbane, rest assured that all our kitchen spaces come fully equipped with the amenities you need to get started. In addition, you can also bring your own equipment and we will help with installation.
CCTV Monitored
Staff locker area
Receiving & loading dock
Shared prep area
Staff break room
Restrooms
Mop wash
Access Controlled
Lift Connecting two floors
Cosy Dine-in Space
Self Ordering Kiosk
---
Order pickup & processing
Courier handoff
Cleaning & maintenance
Safety & health inspections
Delivery logistics
Extraction & ventilation
On-site support staff
---
3 compartment sink
Hand sink
Commercial hood
Power and gas
Water heating
Grease-trap/interceptor
Cold & freezer storage
Dry storage
---
Gas points
Power outlets
High power lighting
Cold & hot water lines
Gas/fire safety system
WiFi
Trash / recycle
Ethernet connections
---
Finding the right size for your commercial kitchen size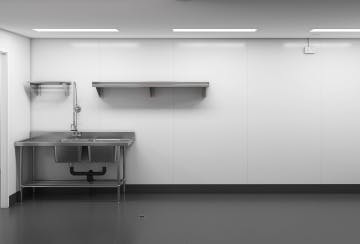 Standard 17 Kitchen
Standard 17 Kitchen
Larger restaurants serving a sizable customer base can consider hiring a Standard 17 Kitchen which can cater to larger outputs and specialised equipment. The Standard 17 Kitchen hire is available in our Melbourne or Brisbane locations.
Suitable cuisine

International Chain

Western Food

Asian Food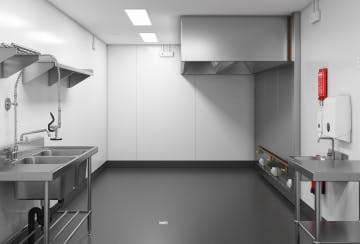 Standard 16+ Kitchen
Standard 16+ Kitchen
The Standard 16+ Kitchen is our middle-ground package that is suitable for a wide variety of restaurants. Scalable and flexible, this kitchen hire strikes a balance between allowing for reasonably intensive output as well as experimentation. 
Suitable cuisine

Local Food

Fast Food

Asian Food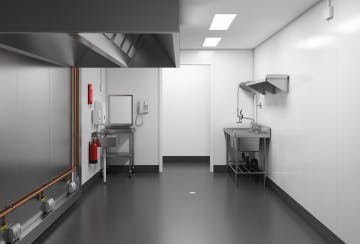 Base Hot/Cold Kitchen
For restaurant operators who want to try out new concepts or expand into new locations, a smaller package like our Base Hot/ Cold Kitchen is your best bet. With this kitchen hire package, you can sign a shorter-term lease and keep investment risks at a minimum while gaining valuable insights for future business expansion.
Suitable cuisine

Beverage

Asian Food
From our research, we have discovered that Brisbane and Melbourne are high-order frequency locations primed for kitchen hire. We help further streamline your operations from start to finish by providing the right infrastructure for delivery pickups or takeaways, so that you can run your F&B business as efficiently as possible and avoid all the logistical hassles. Hire a kitchen in Melbourne or Brisbane today.
Frequently Asked Questions (FAQ) about commercial kitchen hire
What is the minimum contract length for a kitchen hire?
Twelve months is the minimum lease length according to Chef Collective's standard policy to hire a kitchen. However, if you encounter issues with the location or amenities during this time, we're glad to help you adjust your kitchen hire terms as necessary.
---
What are the benefits of renting a smaller kitchen space?
Generally, a smaller kitchen hire size lowers your operating costs, allowing you to experiment with new business or operational strategies with much lower risks than conventional means. It gives you the freedom to test the waters before deciding whether you want to commit to a long-term commercial kitchen hire lease.
---
Is a commercial kitchen hire scalable?
Without hefty fixed costs tying you down, hiring a commercial kitchen space actually gives you the flexibility to scale in size and move between locations! Chef Collective allows you to switch from one package to another so that whether you are looking to expand to new cities, or scale up your existing operation, you can do so with ease. We have kitchens for hire in Melbourne and Brisbane to cater to your expansion needs. With the right execution strategy, there is no limit to how far you can take your business!
---
Does kitchen hire work for all restaurants?
Due to our highly customisable kitchen hire service, we can accommodate nearly every kind of F&B business, from international chains to local street food and beverage shops. Not only will our kitchens give you access to all the basic amenities for food production, but we can also cater to all sorts of miscellaneous needs and specialised equipment.
---