From Deliveroo and UberEats to Doordash and Menulog, food delivery options in Australia are plentiful. Built for consumer convenience, these platforms are essential for modern city life. For those who have busy schedules or kitchens too small to cook in, food delivery services provide them with a means to get high-quality food at a moment's notice, with next to no effort at all. In fact, the food delivery industry is expected to skyrocket to AU$3.57 Billion by 2024.
For years, the food delivery industry has been dominated by fast-food chains: Pizza Hut, Mcdonald's, Taco Bell, KFC and the lot. These brands have the luxury of huge budgets and could run their own delivery services in addition to their dine-in locations, while restaurants typically focus on their dine-in and takeaway services. The past few years have seen the delivery world grow, and the pandemic has done nothing but expedite it. Now, more restaurants are looking for ways to streamline and boost efficiency in their kitchen so that they can cook more food, send it off for delivery, and earn more money.
Dark kitchens seem like the obvious solution: pumped with extensive research, state of the art facilities, business intelligence, and more, dark kitchens are designed to put your restaurant in the league of the best when it comes to food delivery and scalability. Here are some of the most commonly asked questions about opening a dark kitchen:
What is a dark kitchen?
Dark kitchens (otherwise known as Dark, Ghost, or Virtual kitchens) are a growing trend in the F&B sector. They are fully equipped delivery-focused kitchens. Many are now organised through operators like Chef Collective and ready for the immediate lease by a business or brand (and sub-brands). Located in residential areas within the delivery radius but far enough away from congested, high footfall areas, these kitchens are in prime real estate for reaching out to an increased number of customers.
The dark kitchen itself is a highly optimised, streamlined kitchen space. There is no physical dining area, meaning there is no need for huge front of house teams and more space for your kitchen staff.
How does a dark kitchen operate?
Many restaurants are already using online platforms as a way to sell more food. However, dark kitchens take this to the next level, with the entire operation being tailored for delivery instead of dining-in. Once the food is prepared, it's handed off to a third-party courier in the waiting area. This allows you to focus on what you do best: cooking amazing food. The highly systematic and streamlined processes within the dark kitchen model enable you to increase efficiency and grow profit margins.
How do dark kitchens turn over a profit?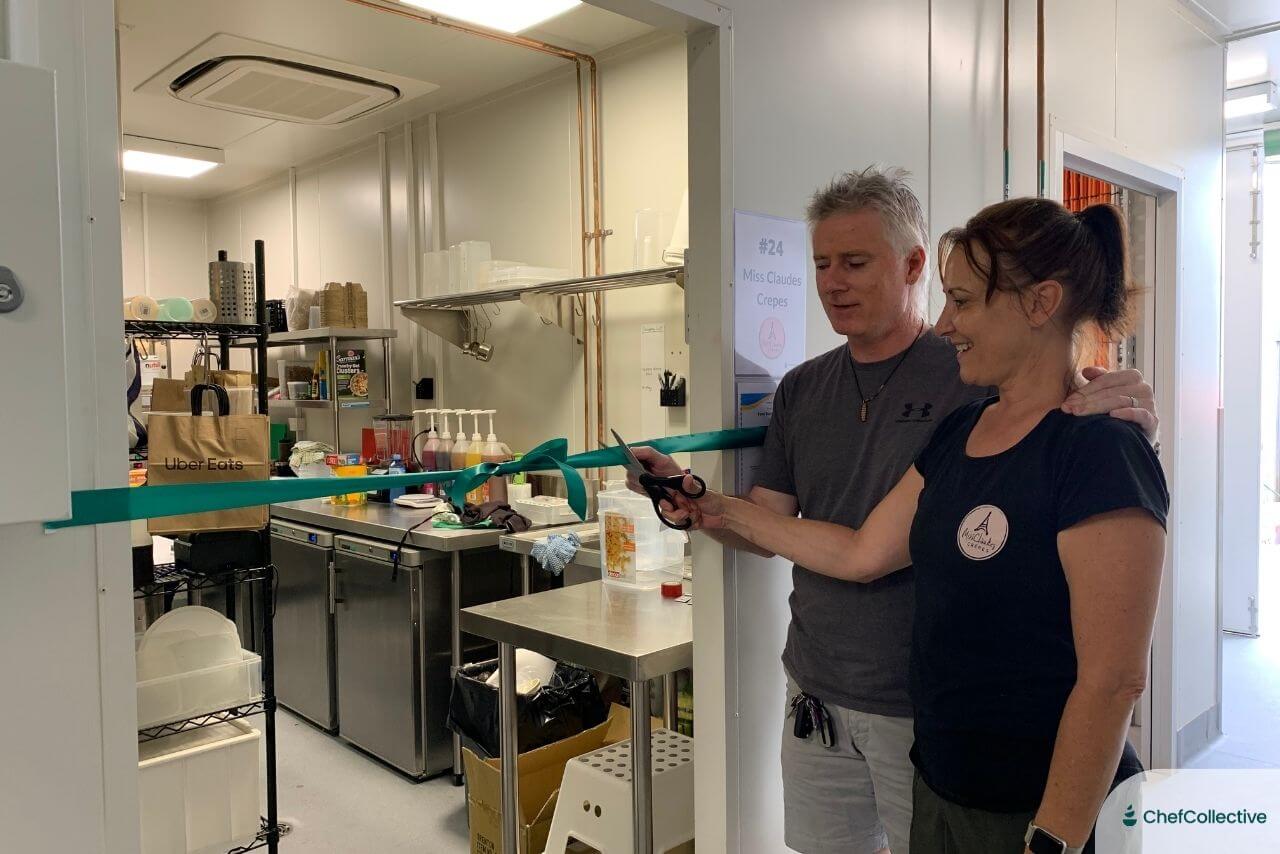 Without the need for frontline staff, your teams can be significantly smaller – which can cut down your operational costs each month. But this is just one of many reasons. By streamlining kitchen processes, you can significantly cut down on overheads, food wastage, and more all while reaching a greater number of customers. On top of this, you can easily run multiple brands out of the same kitchen space, meaning you can increase revenue without any of the extra costs.
Can you rent a dark kitchen space for hours, or days at a time?
Unfortunately, our dark kitchen spaces cannot be rented for such a short time, as they are geared towards restaurant businesses. However, we do believe flexibility is important. We offer short-term leases that allow you to test your restaurant business in one of our spaces for only a few weeks or months at a time.
We find that this offers the right amount of time to see if success is on the horizon without costing too much money.
What locations does Chef Collective operate?
Chef Collective is Australia's leading dark kitchen provider. We have premium locations across the country, placing your kitchen closer to residential areas where growing your food delivery business is as easy as possible. Some of the locations that we operate include Cambridge Street, Brisbane, and Arden Street, Melbourne.
What makes our kitchens the best?
On top of our modern, highly-optimised and efficient dark kitchens, we provide our tenants with state of the art equipment and support designed to give them a competitive edge. Some of the equipment that we provide includes:
2 Compartment sinks with spray rinse arms
Hand sink
Commercial hood
Tempered air
Power and gas
Water heating
Grease-trap/interceptor
Cold & freezer storage
Dry storage
Each kitchen space comes with a range of facilities as well, including:
Driver pickup area
Staff locker area
Receiving and loading dock
Staff break room
Restrooms
Mop wash
Lastly, we also provide complementary services that bring your operations up to the next level. They include:
Order pickup and processing
Courier handoff
Cleaning and maintenance
Safety and health inspections
Delivery logistics
Extraction and ventilation
On-site support staff
What different kitchen options do we provide?
At Chef Collective, we understand that each restaurant has its own set of needs and requirements. Because of this, we've customised our spaces to be as flexible as possible, allowing you to seamlessly move in and start cooking. Our smallest kitchens start at 15 square meters and range up to 25 square meters.
How expensive are dark kitchens to operate?
One of the larger concerns of business owners (especially under times like these) is the financial implications of opening a new location. Luckily, dark kitchens are more affordable to run than traditional restaurants. You can get started in a dark kitchen for as little as AU$10,000, which is significantly cheaper than the AU$200,000 you can expect to pay for a traditional restaurant refurbishment and operation.
So why wait? Open your dark kitchen today!
Should you have any questions, queries, or concerns about opening your own dark kitchen with Chef Collective, please feel free to fill in the form below to reach out to us today!